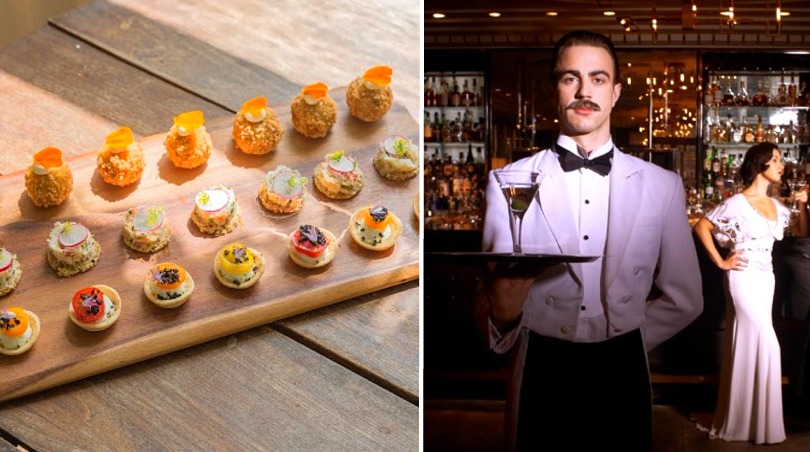 Let us indulge you with tantalising bites of food complemented by exquisite tasting cocktails, wines and craft beers of your choice. We always use the freshest ingredients and best techniques which are delivered to you by our professional front of house team.
We have a wide range of exceptional canapés for your choice.
Wild Mushroom And Fresh Oregano Arancini Balls With Herb Aioli
Heirloom Cherry Tomatoes, Ardsallagh Goat's Cheese And Olive Crumb
Beetroot, Sheep's Milk Curd, Pomegranate Molasses Tart
Fresh,Crisp And Nutty Asian Salad
Wild Atlantic Dressed Crab With Fennel And Pickled Radish
Freshly Cured Mackerel, Pickled Cucumber With Citrus Aioli
Soya Mirn Salmon With Daikon, Carrot And Sesame Seed
Chorizo, Prawn And Basil With Chimichurri Dip
Potato And Jamón Croquets With Salsa Verde
GCs Smoked Duck, With Daikon, Mangetout And Peanuts
Lamb Breast Lolly With Harissa Mayo And Dukkha
Crispy Pork Belly, Apple And Fermented Cabbage Slaw
Chocolate, Orange And Lavender Tart
Blackberry, Red Currant And Elderflower Bites
Rhubarb And Mint Cheesecake

We Also can provide bowl food for your event which are small but perfectly sized edibles served in bowls and designed to be eaten standing up. The perfect in-between bites. This is but a taste of what we can do. If you have any favourites we are more than happy to create them for you. 
Cocktails will be tailored to the customer's needs using classic recipes with modern twists put together by the skill and flair of our mixologist.
Seperate from the crazy cocktails we will set up your own designed bar serving beers, wines and other sprits.